WHO WE ARE
Established under the aegis of St. Andrews School and in association with MDA (Madras Dyslexia Association), Akira is an independent learning center, located within the Marredpally campus offering a one or two year full-time remediation programme for students with dyslexia and language-based learning disabilities.

Akira promotes academic and social performance by:
Conducting a comprehensive initial evaluation that provides educational insight

Placing students in classes based on ability

Providing personalized instruction and continuous academic monitoring

Equipping our specialized educators with the latest research-supported best practices and professional development in the field of learning differences
WHAT WE DO
Akira offers a 1 to 2 year remediation programme.
Objectives

To offer a broad and balanced curriculum, with personalized learning and student outcome

For students to acquire and develop the four core skills; problem solving, independence, communication and teamwork

For students to be well prepared for their next steps beyond Akira and become independent lifelong learners
HOW WE DO IT
Akira employs a holistic approach by evaluating the individual needs of each student throughout the academic year. The school offers a broad and balanced curriculum, with personalized learning and student outcomes. The goal is to educate the student in ways that works best for them; the academic programme highlights the students' strengths and gives students the confidence to use them.
Reading, writing and the content subjects are taught with a strong emphasis on language competence, skill development and cognitive strategy. Students are grouped within their grade levels according to their levels of development in language and mathematics.
The academic programme focuses on the three basic challenges faced by students with language-based learning challenges:
Acquiring the academic strategies and skills necessary to reach their academic potential

Developing self-confidence in their ability to achieve success

Understanding their learning differences so they can become effective self-advocates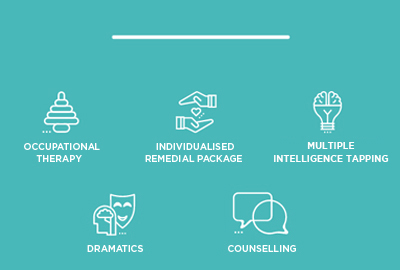 ADMISSION
Akira must of necessity remain small and we therefore accept only a limited number of students for each academic year. We cap our enrolment to 30 students a year to ensure very small classes – five per class.
Because of the nature of our mission and, indeed, our students, Akira offers places only to those students whose academic, interpersonal and social needs that can be met by the school. Akira is a learning center, exclusive for children with dyslexia. It does not accept children with other learning difficulties.
Akira will offer a place based on an evaluation done by the center. The objective of the assessment is to ensure that our programmes and approaches are relevant to the child's needs and to gauge that the child can work at a sufficiently independent level in order to fully access the programme.